Harmsco Municipal Filtration Systems
Harmsco Municipal
Become LT2 Compliant – Removal of Cryptosporidium & Giardia lamblia - LT2 "Long Term 2 Enhanced Surface Water Treatment Rule - GUDI" Ground Water Under the Direct Influence of Surface Water. NSF 61, 1u absolute media, 3.6 log reduction of cyst sized particles.
Approved Systems – United States
Approved Systems – Canada
LaboratoryTest Results
Pace/IBR – MUNI-1-2FL-304 with HC/170-LT2
Pace/IBR – MUNI 90 MP with HC/90-LT2
LT2 Pleated Microglass Cartridges
Meets Long Term 2 (LT2) Requirements for Ground Water Under Direct Influence of Surface Water (GWUDI)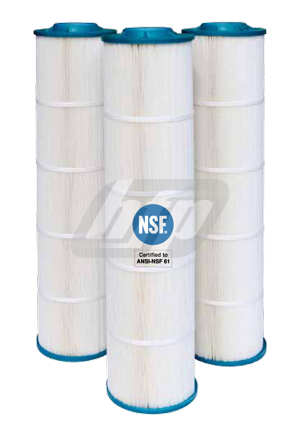 Certified: NSF/ANSI Standard 61 Drinking Water System Components - Health Effects
High flow capability
Low initial pressure drop
Lower overall operating cost
Increased contaminant removal
Longer filter runs for fewer change-outs
Premium Hurricane© Polyester Cartridges
Maximum Surface Area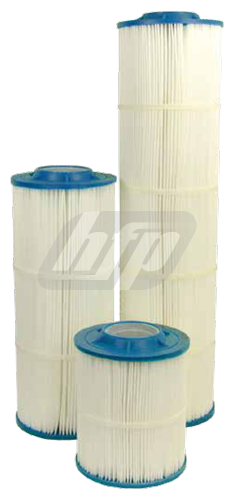 High flow capability
Lower overall operating cost
Reduced waste disposal
Longer filter runs for fewer change-outs
Increased contaminant removal
Operator friendly
Harmsco's Cost-effective Solutions for LT2 Compliance
What is Long Term 2 Enhanced Surface Water Treatment Rule (LT2 Rule)?
The EPA has developed the LT2 ESWTR (LT2 Rule) to improve your drinking water quality and provide additional protection from disease-causing microorganisms and contaminants.
Why is the EPA concerned about Cryptosporidium?
Cryptosporidium is a significant concern in drinking water because it contaminates most drinking water sources, it is resistant to chlorine and other disinfectants, and has caused waterborne disease outbreaks. Consuming water with Cryptosporidium can cause gastrointestinal illness which may be severe and sometimes fatal for people with weakened immune systems including infants and the elderly. The EPA estimates that full compliance with LT2 ESWTR will reduce the incidence of cryptosporidiosis by 89,000 to 1,459,000 cases per year, with an associated reduction of 20 to 314 premature deaths.
Who does this rule apply to?
The LT2 ESWTR applies to all public water systems that use surface water, or ground water under the direct influence of surface water. This includes about 14,000 systems serving approximately 180 million people.
LT2 ESWTR Toolbox Manual (April, 2010)
All components used in drinking water treatment process should be evaluated for contami- nant leaching and Certified under ANSI/NSF Standard 61.
The filter housing and cartridge must be challenge tested per LT2 ESWTR Toolbox Guidance Manual with specific instructions regarding:


Full scale filter testing, challenge particulate, test solution concentration, challenge test duration, water quality of test solution, maximum design flow rate, challenge particulate seeding method and concentration, sampling procedures and calculation of log removal.

Testing is product specific, not site specific, meaning it does not have to be tested at every water system seeking removal credit. Instead, a manufacturer or independent third party would challenge test each of its products in order to obtain a 2.0- or 2.5-log Cryptospo- ridium removal rating:


Up to 2.0-log removal for individual cartridge filters showing a minimum of 3.0-log removal in challenge testing.

Up to 2.5-log removal for cartridge filters in series showing a minimum of 3.0-log removal in challenge testing.

A minimum of two (2) bag or cartridge filter housings should be provided to ensure continuous water treatment in the event of failure in the filter operation and to allow for filter maintenance and replacement.
For more information, please visit: http://water.epa.gov/lawsregs/rulesregs/sdwa/lt2/basicinformation.cfm
Harmsco® LT2 Cartridges for Cyst-free Drinking Water
Harmsco® LT2 cartridges and housings exceed the three-log (99.9%) removal requirement described in LT2 ESWTR Toolbox Guidance Manual 8.4.1. for cyst-sized particles. For this reason, Harmsco® LT2 filter cartridge elements are ideal to control cryptosporidium, giardia cysts and other harmful microorganisms to help ensure safe drinking water.
Independent Lab Validated
To verify the performance of the Harmsco® LT2 cartridge and NSF filter housing, Pace/IBR, highly respected independent testing facilities, were selected to conduct challenge tests as outlined in the LT2 ESWTR Toolbox Guidance Manual 8.4.1. This defines the maximum challenge particulate based on detection limit and acceptable cryptosporidium surrogate…2 microns in these tests. The "terminal" pressure drop was determined by Harmsco® to be 30 psi. The Harmsco® LT2 cartridges were tested via single pass protocol per the EPA at 3 separate points: 1.) after initial flushing (clean cartridge), 2.) at 50% of terminal pressure drop (15 psid) and 3.) after terminal pressure loss has been reached (30 psid).
Results of Challenge Test Conducted by IBR

NSF-61 Listed cartridge filter system removes cyst-sized particles providing safe drinking water Pleated microfiber media provides exceptional surface area for longer filter life and increased particle removal
Patented Dual Durometer end caps ensure positive end cap sealing
End caps, center tubes and media are thermally bonded as one integral component for added strength while providing superior sealing
120 sq. ft. media (surface area) in a single cartridge design
FDA Listed Materials: Manufactured from materials which are listed for food contact applications in Title 21 of the U.S. Code of Federal Regulations
Filter Media: FDA borosilicate microglass with acrylic binder
Support Media: spun-bonded polyester laminated on both upstream and downstream sides
Center Tubes: rigid PVC with perforations
End Caps: plastisol (pliable PVC)
Heat-seal Bags: standard on HC/170-LT2 cartridge
Flow Rate: 100 GPM (recommended) per HC/170-LT2 cartridge; > 3.6 Log removal
Temperature: 140˚F (60˚C) max*
* Temperature limits vary and depend on pressure and time under load.
Maximum Change Out: 30 PSI ( 2.07 Bar) ∆P
Surface Area: 120 sq. ft. (HC/170-LT2)
Dimensions: 7-3/4" O.D.; 4" I.D.; 30-3/4" L.
pH: 3 to 11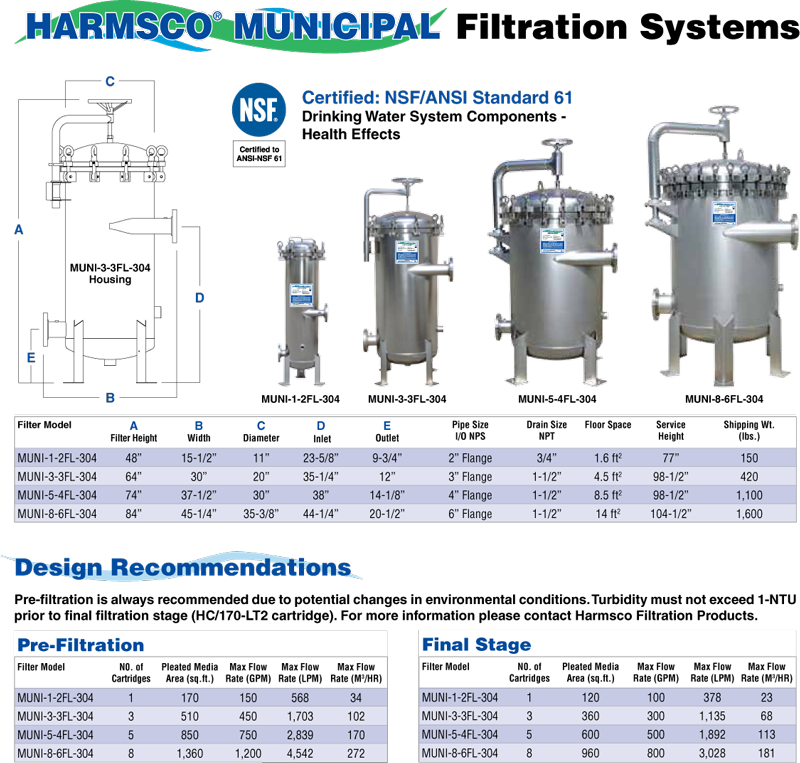 304L or 316L stainless steel, electropolished
Built to ASME design standards
(not code stamped)
Standpipe - 304L or 316L stainless steel
Inlet/Outlet - flanged connections
NSF 61 Listed Ball Valves (2) - 316 stainless steel
O-ring housing seal, swing bolt closure
NSF 61 Listed Pressure Gauges (2) - 316 stainless steel
Pressure - 150 psi (10 bar) max. Temperature* - up to 140˚F (60˚C) with standard cartridges
* Temperature ratings based on pressure and time under load.
Note: This publication is to be used as a guide. The data within has been obtained from many sources and is considered to be accurate. Harmsco does not assume liability for the accuracy and/or completeness of this data. Changes to the data can be made without notification. Temperature, Pressure, Flow Rates, Differential Pressures, Chemical Combinations and other unknown factors can affect performance in unknown ways. Limited Warranty: Harmsco warrants their products to be free of material and workmanship defects. Determination of suitability of Harmsco products for uses and applications contemplated by Buyer shall be the sole responsibility of Buyer. The end user/installer/buyer shall be liable for the product's performance and suitability regarding their specific intended applications. End users should perform their own tests to determine suitability for each application.